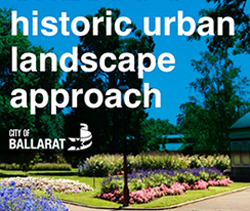 Resources and studies from the City of Ballarat's Historic Urban Landscape pilot program.
Links and Resources
2nd HUL Symposium: Revitalising Historic Cites: Participate, Imagine, Innovate (2015)
Drawing together international, local speakers and expert participants including Dr Ron van Oers (Vice Director WHITRAP) and Dr Rohit Jigyasu (UNESCO Chair Professor Ritsumeikan University, Kyoto) the symposium included multidisciplinary sessions on a range of Historic Urban Landscapes (HUL) themes and issues over two days. 
Ballarat and UNESCOs historic urban landscape approach (2013)
An informative brochure highlighting the City of Ballarat's HUL pilot program and heritage activities. 
Ballarat case study on GO-HUL
The Global Observatory on the Historic Urban Landscape (GO-HUL) is an initiative launched by experts who have been working with UNESCO for many years on the theme of the historic urban landscape. The Ballarat case study includes links to resources and Ballarat's HUL program participants.
Ballarat East community map - draft 2 (2016)

Imagine Ballarat East is a project organised by the City of Ballarat in response to community concerns about change. At the centre of this project is a community map which brings together cultural mapping results guided by members of the local community. It highlights the distinctive features, experiences and sense of place of high value to the community.


File size: 1.4mb
Ballarat East Discussion Paper (2016)

The Imagine Ballarat East project applies the HUL approach using Local Area Planning and Cultural Mapping tools. This paper outlines the first phase results of participatory engagement alongside other knowledge about the local area. This, along with further input from the local community, informs the development of planning controls and other actions to guide the future of the Ballarat East area. ...


File size: 1.4mb
CeRDI: Historic Urban Landscape and Visualising Ballarat Impact Analysis - first wave (2016)

This research tested the impact of www.hulballarat.org.au and www.visualisingballarat.org.au online tools. It is the first wave in an extended program of analysis which is part of a multi-site baseline system study (which is a major technological innovation). It measures the impact and value of open access to enhance, empower and engage community and provide sector change through technical innovat...


File size: 2.9mb
Context Pty Ltd: Mapping Ballarat's Historic Urban Landscape - Stage 1 Final Report (2013)

Stage 1 indicative cultural landscape mapping for Ballarat and recommendations for Stage 2 of the HUL pilot program.  This study forms one of a series that are contributing to the development of methodologies for the Historic Urban Landscapes approach. This study made a significant contribution to Today, Tomorrow, Together: The Ballarat Strategy (2015). ...


File size: 2.9mb
Omnilink Pty Ltd: 3D Mapping System – Scoping Study (2014)

The City of Ballarat commissioned this study in order to understand the effectiveness of 3D solutions as part of the UNESCO Historic Urban Landscape (HUL) pilot program. 


File size: 1.5mb
Our People, Culture & Place: A plan to sustain Ballarat's heritage 2017-2030

Our People, Culture & Place: A plan to sustain Ballarat's heritage 2017-2030 was adopted by the Ballarat City Council in December 2017. It provides a best practice platform for delivering specific programs and initiatives across Ballarat from now to 2030, applying the HUL's integrated and holistic approach. The plan commits the City of Ballarat and key stakeholders to stepping up their eff...


File size: 1.5mb
Our People, Culture and Place: A new heritage plan for Ballarat 2016-2030 (Preliminary Plan)

The City of Ballarat released a Preliminary Heritage Plan in August 2016 to test a range of principles and proposals with the local community and stakeholders. This plan is the culmination of participatory work with local citizens, national and international experts and stakeholders through Council's UNESCO Historic Urban Landscape (HUL) pilot program since 2013.  ...


File size: 1.5mb
The HUL Guidebook: A practical guide to UNESCO's Recommendation on the Historic Urban Landscape

This guidebook is a practical guide to UNESCO's Recommendation on the Historic Urban Landscape (HUL) and the result of a cooperation agreement between WHITRAP, City of Ballarat in conjunction with Tongji University and Federation University Australia. The Guidebook has been designed to assist stakeholders who wish to effectively deal with change in a way that harmonizes urban conservation with...


File size: 4.5mb