SongWays Art Gallery of Ballarat
Art Gallery of Ballarat, Lit up by The Electric Canvas & Pitcha Makin Fellas for White Night 2017, Photographers Aldona Kmiec and Ray_au
The Art Gallery of Ballarat was founded in 1884 and is housed in this beautiful heritage-listed building in Lydiard Street. It is the oldest, largest and first regional gallery in Australia. As well as having an incredible collection of art, this building with its resonant acoustics and intimate indoor and outdoor spaces has been, and still is, the epicentre of a wonderful collection of live music concerts. If you're lucky, you will hear one.

Concert at the Gallery, Source: Art Gallery of Ballarat
The gallery hosts a multitude of performances every year across a range of genres. Its own annual professional music series includes a delectable array of high-calibre musicians including the Early Music Consort, the ACO Collective, The Seraphim Trio, The Grigoryan brothers, Paul Grabowsky, Lior and the Australian String Quartet.
Concerts and special events also held at the gallery include: the Gallery Women's Association's last Sunday of the Month concerts (providing significant support through a professional performance space for local and young musicians); Celebrating Chopin (Royal South Street Eisteddfod's foremost concert section for piano); Organs of the Ballarat Goldfields festival; Ballarat Acoustic Music Festival during Earth Hour (run by Mick Trembath for two years, see YouTube clip below); Festival of Slow Music (run by Adam Simmons for five years) and Soul Food with live local music (run by the Baha'i community monthly for the past seven years).
Ros Bandt playing the 'Flagong' at Art Gallery of Ballarat, The Courier 28 May 1983, Source: Merle Hathaway

The Grigoryan Brothers perform at the Art Gallery of Ballarat, Source: Georgina Williams
Merle Hathaway - Education Officer at the gallery from 1980 to 1990 - remembers an innovative time during the 80s of experimental, new and improvised music at the gallery including Australia's fine counter tenor, Hartley Newnham, performing John Cage work; a 'Music by Australians' series including a New Music weekend with debut performance of Vincent Plush's 'Bakery Hill Rising' commissioned by gallery Director Ron Radford; Ros Bandt playing her 'flagong' with her group LIME (Live Improvised Music Events).
The Art Gallery of Ballarat provides the perfect space for cross-media music collaborations ...
Ed Baxter Kite making Workshop 1983, Source: Merle Hathaway

Jam 'n JAR performing at Art Gallery of Ballarat 2016, Source: Al Wunder
And youth arts explosions ...
Opening of Next Wave Festival 1985, outside front of the Art Gallery of Ballarat, Source: Merle Hathaway

Laneways FreeZA all ages event, Annexe, Art Gallery of Ballarat, Source: Deborah Klein
In 2017, As Midnight Strikes was performed by the Singers of the Black Book for Ballarat's inaugural White Night, where audience members were so jam-packed into the Oddie Gallery space by candlelight at midnight that they edged treacherously close to the hung works as they bathed in the sonic choral worlds from Dark Ages to Baroque and from Spain to Georgia.
Video archives courtesy of Rex Hardware
Who is the Oddie Gallery named after? And did he know that the tent, pictured in the painting below, is also the very tent from which a band of musicians reluctantly helped fuel a revolution?
'Having come to Ballarat as a digger, [James] Oddie made a fortune as a real estate agent and subsequently as a banker. He had liberal attitudes both in terms of politics and culture and was a firm believer in the potential of people to lift themselves up through hard work and education. He saw an art gallery as a way for his fellow citizens to look beyond their everyday lives and be inspired and edified by the Fine Arts. In 1885 Oddie gave the new Gallery a painting he had commissioned from noted artist Eugene von Guerard, showing Ballarat in its early days as a tent city. This painting, 'Old Ballarat as it was in the Summer of 1853/54' is still at the heart of the Gallery's collection.'1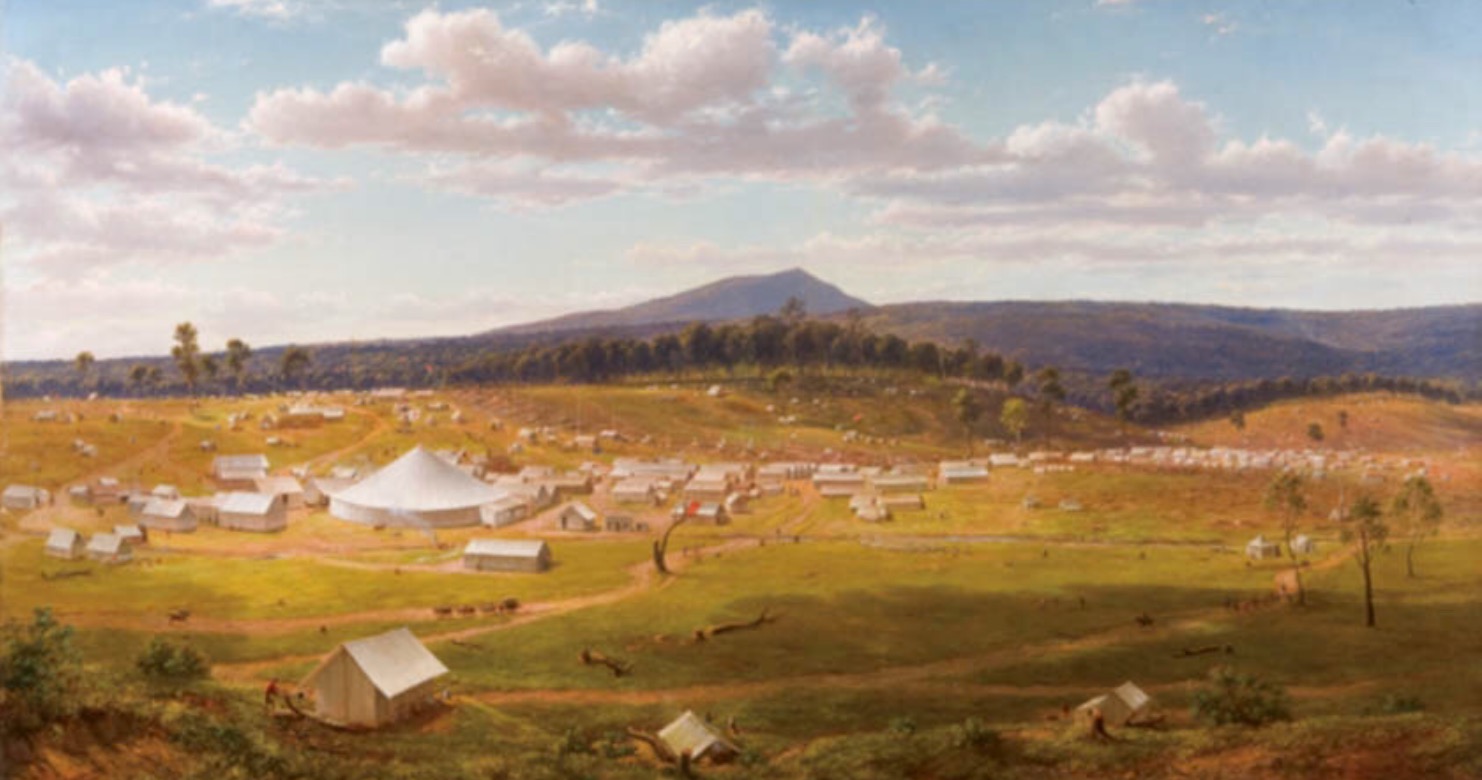 Ballarat in 1853–4, painting by Eugene von Guerard featuring Jones & Noble's Circus tent
Source: Art Gallery of Ballarat
'The theatrical area evident in the von Guerard painting was the Gum Tree Flat, otherwise known as Commissioner's Flat, which is the area of the Eastwood Street supermarkets.' Peter Freund
'At Ballarat towards the end of 1854, rebellious diggers called upon the circus of John Jones. With guns and pistols levelled, the diggers ordered the German bandsmen of the circus to march to a site where a makeshift stockade was under construction. At gunpoint, the musicians serenaded the diggers all day until, at last, the crude fortress was completed and they were permitted to return to the circus. That evening, the fortress was overrun by several hundred soldiers and police sent from Melbourne – an incident that has gone down in Australia's history as the "Eureka Stockade".' 2
Video archives courtesy of Rex Hardware
1 https://artgalleryofballarat.com.au/collection/history-of-the-gallery/
2 http://www.australia.gov.au/about-australia/australian-story/early-circus