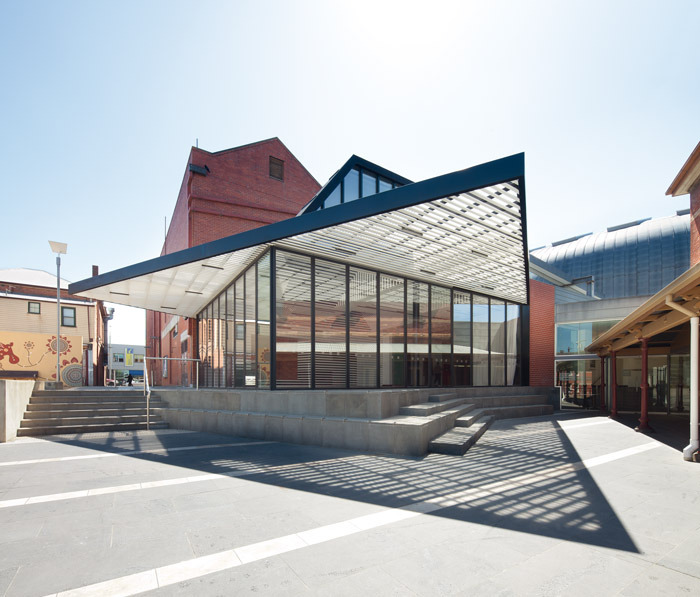 Annexe, Alfred Deakin Place,
Art Gallery of Ballarat
The annexe opens up and the outdoor space comes alive
with music events (Motor City Sounds, Backyard Tasters)
One of the key venues for music happening in Ballarat has been, and still is, outside. Life, largely an outdoors affair until recent times of modern comforts, found the perfect expression through music outdoors for all ceremonies, celebrations and outpouring of public emotion.
For the Traditional Owners, music was the means of communicating all knowledge, across the country along songlines: from technical breakthroughs; to history, geography, science; to important ceremony and all aspects of cultural life.
click on images to enlarge
Night Corroboree of Australian Natives, Edwin Stocqueler 185? NK6777 Source: National Library of Australia
Ceremony, watercolour by Wiliam Barak c 1895 Source: Art Gallery of Ballarat Collection
The European and Chinese settlers found their place within this foreign country, celebrating, grieving, sharing and also marking their cultural identity and territory through music.
click on images to enlarge
Ballarat Benevolent Asylum Fete - The Chinese Procession 1875, Source: State Library of Victoria, IAN01/12/75/188
Trombone players leading the festivities, Bridge Street, Ballarat East on Mafeking Day 1901
Source: Ballarat Historical Society Collection
During the goldrush, a visitor could expect to hear the relentless barking of mongrel dogs, the deafening crash of miners' cradles and crushing rock, and the evening sound of gunfire.
click on images to enlarge
Arrival of Geelong Mail, Main Road Ballarat, S T Gill lithograph Source: Ballarat Historical Society Collection
Night Scene on the Goldfields, 1855 Source: Ballarat Historical Society Collection
It is no wonder that the miners would retreat at night to sing songs around the campfire.
Music created a counterpoint by providing socially connecting and uplifting moments in the day. There were itinerant folk musicians on street corners, barrel organ music and town bell ringers '...announcing entertainment, auctions, elections, and items of general interest.' 1
click on images to enlarge
Sunday at the Diggings, musicians pictured in coloured sketch, Source: Ballarat Historical Society Collection
Joe the Bellman, c 1880 photo of Joseph Chiswick, bellman and street barrel organ player
Source: Ballarat Historical Society Collection
People contributed to the community and built, through fundraising street parades and concerts, the city we now know as Ballarat. Used as a means to culturally identify oneself in a highly multicultural landscape, live music outside transformed the outer form and inner culture of the city.
Not so long ago, people did things that we would never dream of doing outside now.
Brake horse, Ballarat Fire Brigade, 1894 Source: Ballarat Historical Society Collection
1960s Chest Xray, Ballarat Mechanics' Institute Source: Max Harris collection, Ballaarat Mechanics' Institute
They made their own entertainment.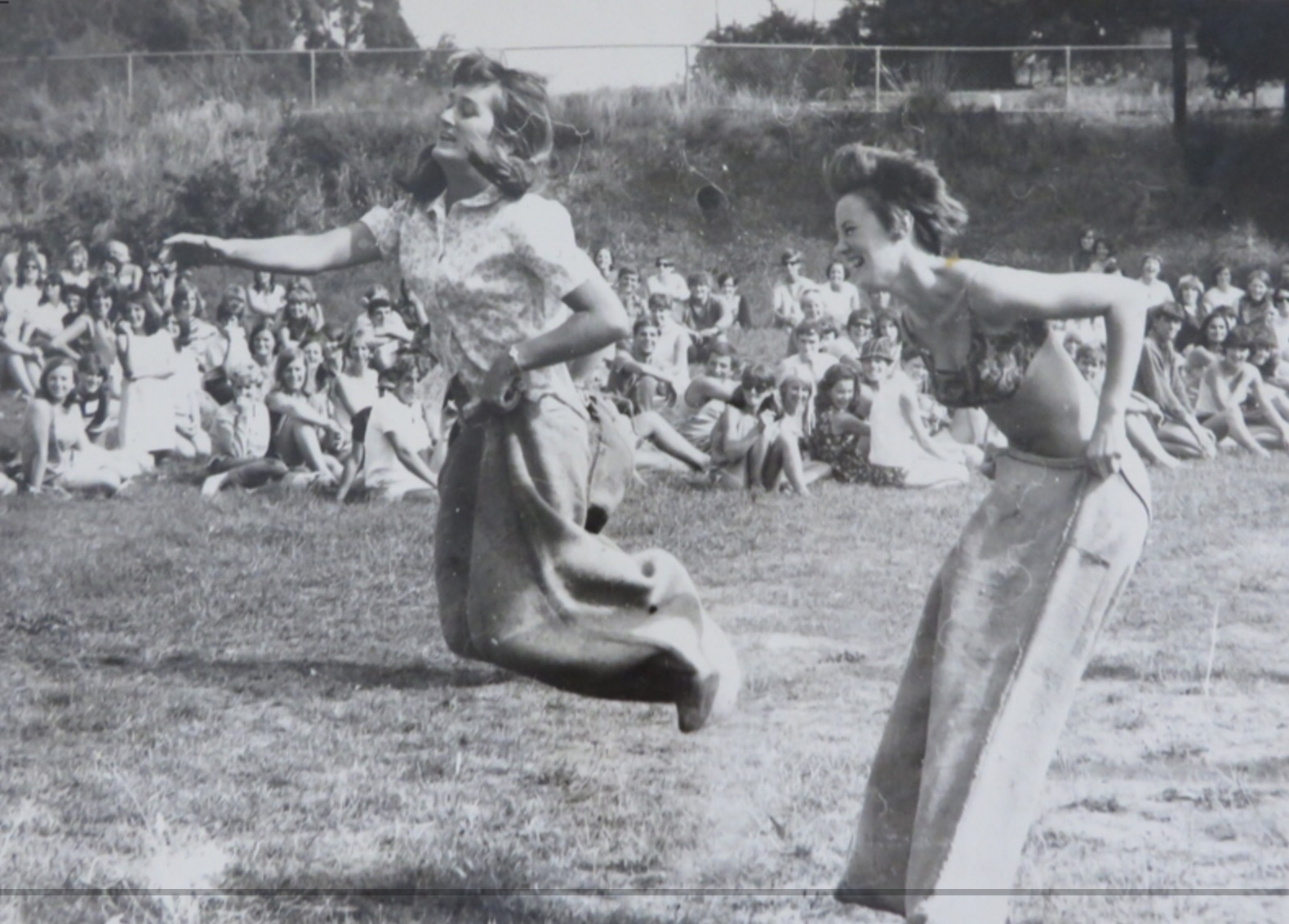 Ballarat Teachers' College Sack Race,1968 Federation University Historical Collection
Music is fundamentally socially connecting in a way that little else compares.
Clockwise from top left: Street Scene Begonia Procession, 1957, source: Ballarat Historical Society; Playing at The Brewery, Buninyong, Source: Merle Hathaway; Centenary highland Street Parade 1938 floral festival, source: Max Harris Collection, Ballaarat Mechanics' Institute; Ballarat Memorial Band's Final Parade, Lake Wendouree, Source: Ballarat Memorial Concert Band; Ballarat Begonia Festival 1980 program cover, Source: Ballarat Tramway Museum; Adam Simmons promoting Winter Festival, the Melbourne Weekly July 12 -18, 1999, Source: Kiri Smart
That is why bands have been, and continue to be, so vitally important in the lives of the people of Ballarat.
'Middle class respectable citizens often shared the same music as the poor and destitute. The less affluent area of Ballarat East had its share of free outdoor performances. Market places in Eureka Street and Bridge Street, the Victoria and the Cremorne gardens, all in Ballarat East, were sites for evening concerts. Street parades took the bands marching across the boundary between Ballarat West and Ballarat East, playing to the wealthier inhabitants of the West as well as the workers and miners in the East. All age groups came together in musical audiences.'2
One key part of Ballarat's outdoor music history is banding, and its story is as long as it is colourful. For over a century banding has seen Ballarat through every civic parade, the laying of foundation stones, important fundraising, funerals, wars, memorials (including every ANZAC day parade) and has earned Ballarat its reputation as 'Bandsmen's Mecca in Australia'.
'Brass bands are like extended families. Members know each other well and often spend time together outside of rehearsals and engagements ... Playing a musical instrument not only gives us enjoyment but it also brightens the lives of others,' says Robert Pattie, City of Ballarat Municpal Brass Band.
Band member, Jim Allen, remembers playing in the Returned Soldiers' Band every Sunday for around five years during World War II in the 'Church Parade'. He was too young to join the war effort and the barracks were a convalescent camp for returned soldiers at the time. 'They used to pick us up in army trucks,' says Jim. They would take the band members to city oval where they marched and played and paraded the Ballarat citizens to church. In the early 1900s banding was so central to the life of the city that they used to have public holidays just to watch brass bands march on City Oval.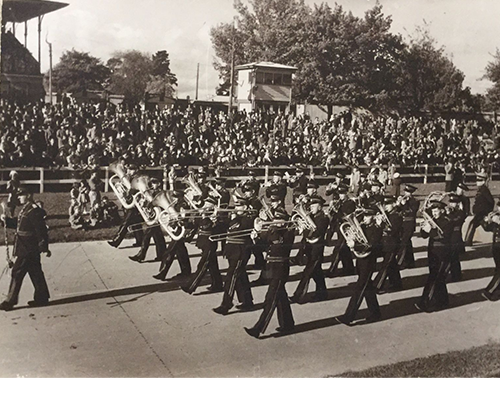 City of Ballarat Municipal Brass
Band, South Street Competition, 1950
City Oval, Ballarat Source:
City of Ballarat Municipal Brass Band and Georgina Williams
With no television, families used to entertain themselves in the evening listening to the brass bands on the radio, and on the weekends they would go to McDonalds bandstand at Lake Wendouree on Sunday afternoons or to the Titanic bandstand on Sunday evenings to enjoy live music. Down Sturt Street people would park their cars backwards, with their windows wound down just to listen. You can imagine how lively the streets and parks must have been with bands playing once or twice each weekend. Part of their contract with City Council was to play a minimum of 40 times per year.
Another long-time band member Lindsay George played Carols by candlelight in the Ballarat Memorial Concert Band for nearly fifty consecutive years – first from a steamer on Lake Wendouree and later, over many decades, from the Botanical Gardens Sound Shell.
How did the South Street Band competition in Ballarat earn its name as the 'Bandsmen's Mecca'? The contest, which began in 1900 (when fifteen thousand people attended the Bands closing contest on City Oval), has seen the city taken over by brass bands from all over the nation with marching that went on for days, decade after decade.
click on image to enlarge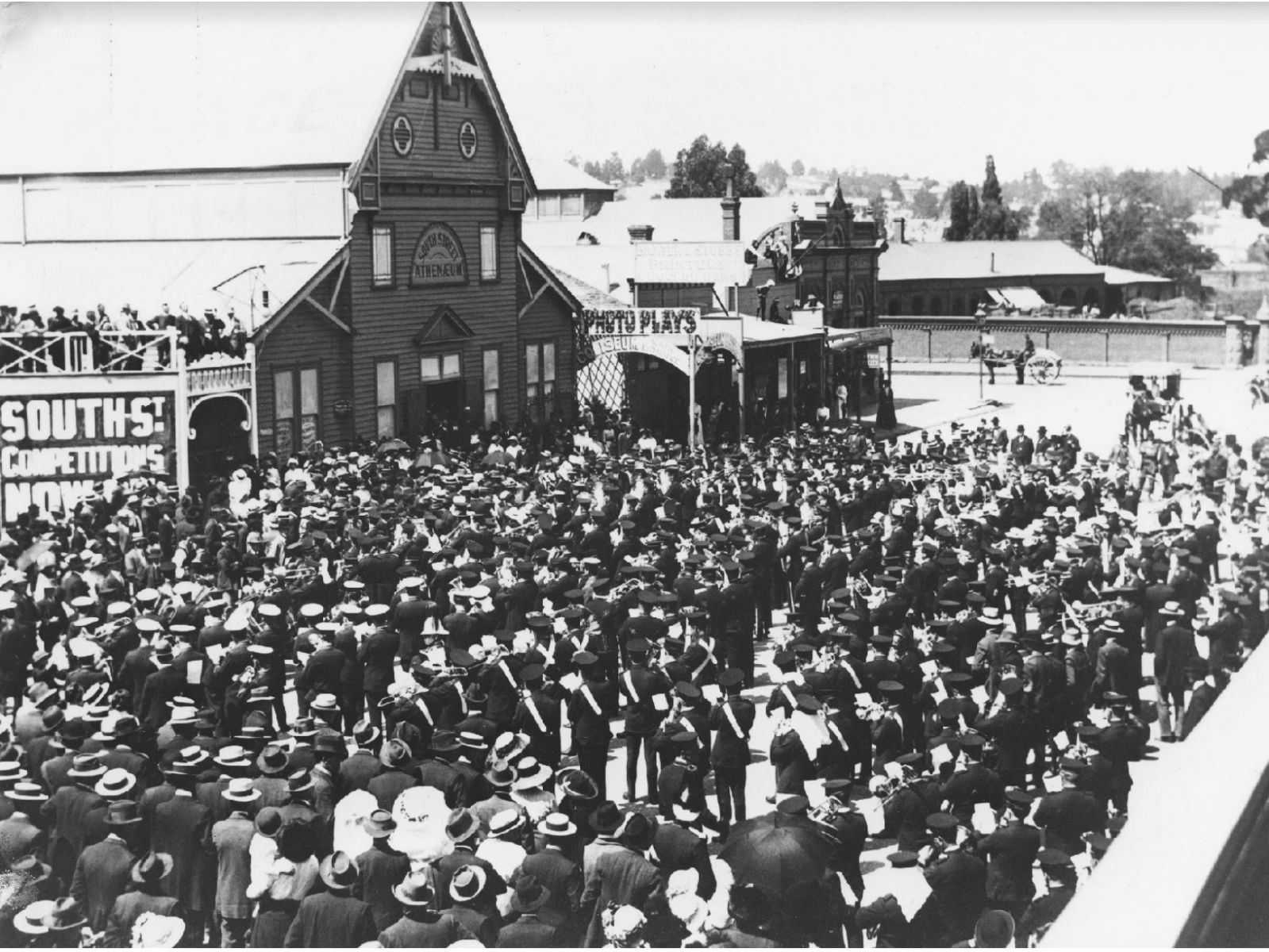 Band Comp Coliseum Grenville Street, Ballarat Mechanics Institute, Max Harris Collection, Ballaarat Mechanics' Institute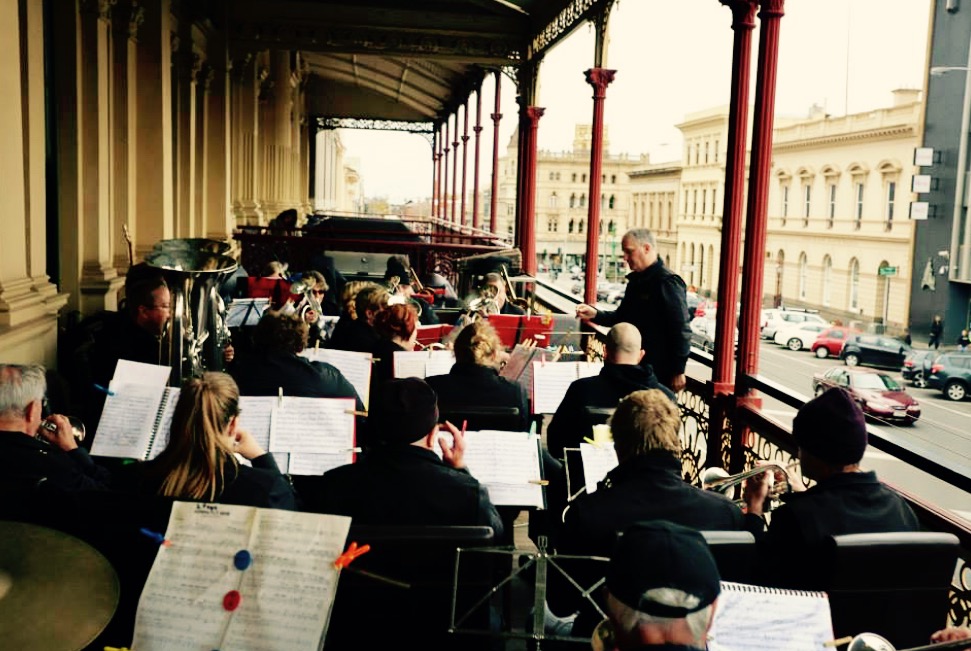 Source: City of Ballarat Municipal Brass Band
Band members used to book out the whole town, creating an electric atmosphere, when they rehearsed on every hotel balcony. Balconies took a tumble in the 1970s when the council ruled it illegal to have balcony posts on the footpath due to the number of cars crashing into them as they parked.
The Returned Soldiers Band (now Ballarat Memorial Concert Band) and City of Ballarat Municipal Brass Band, the Salvation Army Band, Phoenix Foundry Band, the Ballarat Orphanage Band, the military band (2 RVR) and the Soldiers Hill band, to name a few, have all been part of this important culture.
Talking of balconies, the song 'Ballaarat' which Frank Callahan famously recorded (played at the entrance to Central Square for two years in a cunning plan to dissuade loitering youth), was given its debut performance by Maud Cameron from The George Hotel balcony in 1927.
Ballarat's outdoor music scene is still very much alive and kicking. Large events like the Australian Jazz Convention and the Regional Busking Championships continue to grace the streets while international acts including Nick Cave, John Farnham and Cat Empire recently chose to put on concerts in Ballarat's North Gardens. The Ballarat City Council regularly supports events such as Backyard Tasters in Alfred Deakin Place and Summer Sundays in the Botanical Gardens.
There are hundreds of thousands of stories of people participating in outdoor live music in Ballarat; here are three of them:
White Night Ballarat 2017, Source: Video - Tim Burder, Music - The Winter Berries
Features: More Than 1 Nation by The Electric Canvas & Pitcha Makin Fellas, Former Bank of New South Wales
Arch-angel puppet: The White Knight Messenger by A Blanck Canvas
1. A. Doggett 'A Far Cry: Town Crying in the Antipodes'
2. A Doggett ' "for Harmony we most Ardently Long":musical life in Ballarat, 1851-1871'