Dave McGinniss is a PhD student with CRCAH and Amy Tsilemanis is currently a research officer with CeRDI, both at Federation University Australia. Together they have initiated the History Heritage Place Discussion Group in Ballarat that provides a space for ideas and discussion from a diverse range of thinking and disciplines. Join them here on a journey around Federation University's historic School of Mines (SMB) campus as they walk, talk and snap photos, probably raising more questions than answers along the way.
Artwork by Lorna Bailey 1934                                  Exploring 2015
Amy: The fascinating thing about research is all the different perspectives that can be brought to a topic and the ways they might be explored, including these processes of looking, walking, chatting and thinking. Inspired by images of a School of Mines Botanical Garden found in the FedUni Historical Collection (below) I asked Dave to show me the spot, nestled not far from the CRCAH offices themselves.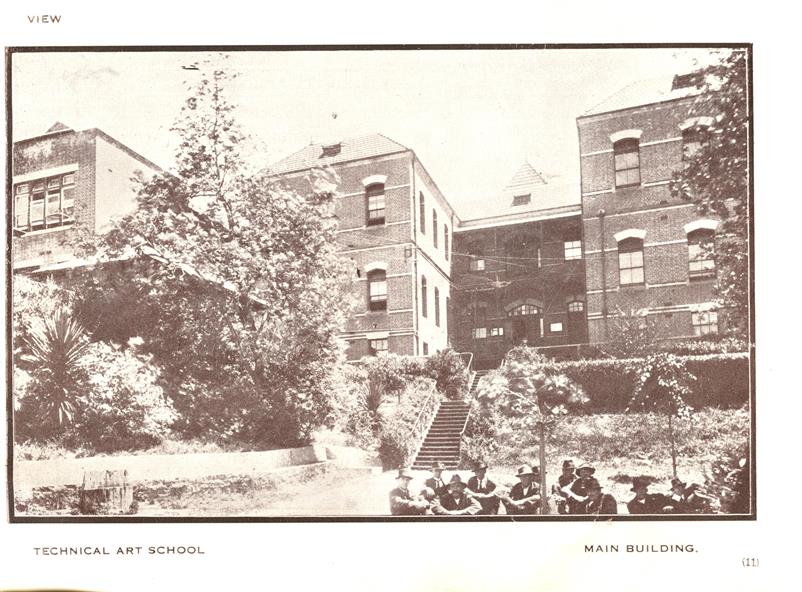 View of gardens towards stairs, 1920s
Starting at the gardens, we embarked on an exploration of the old campus and were struck by the hidden spaces and the changing urban values they reveal and conceal.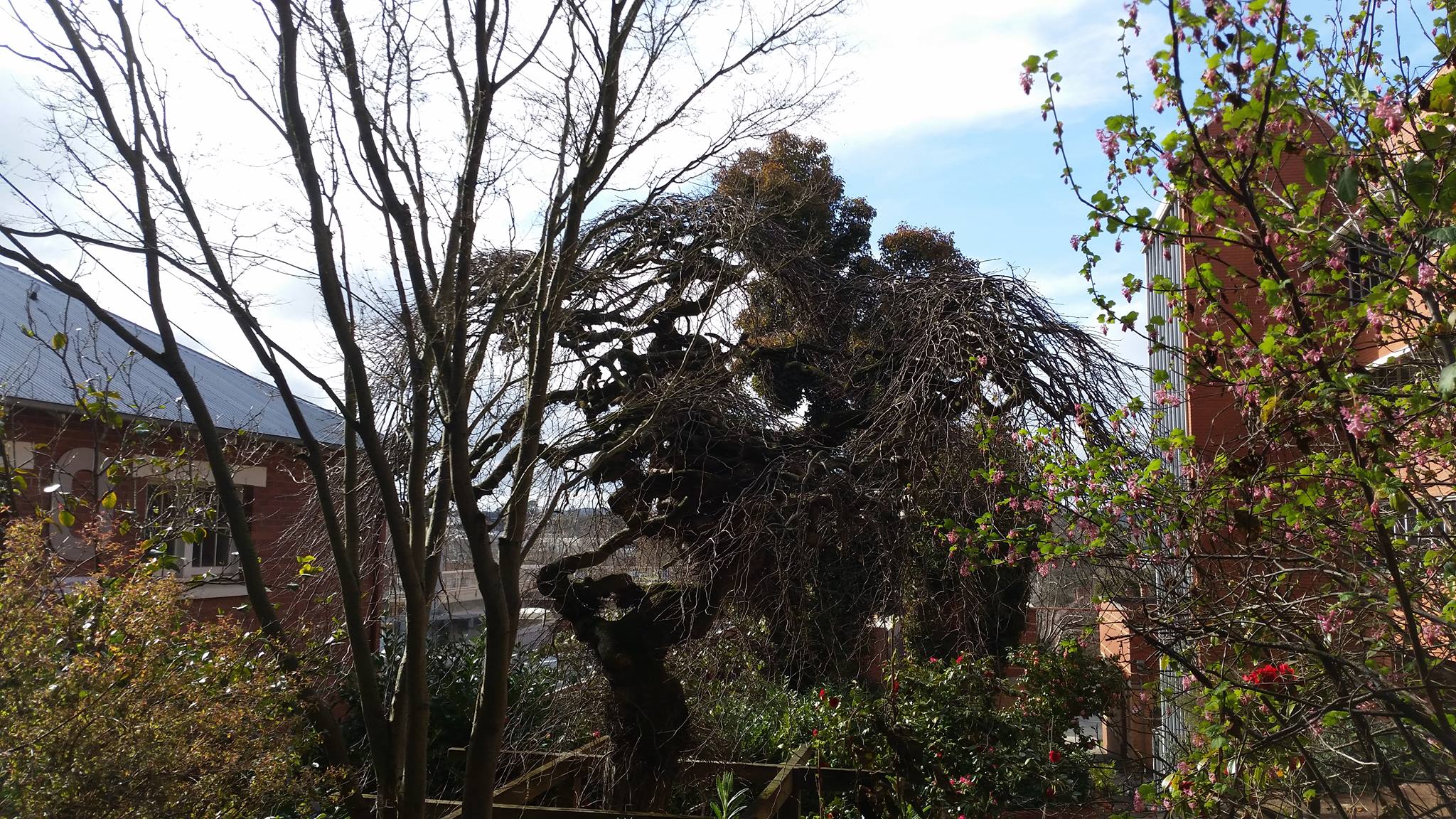 View of gardens from the top of stairs, 2015
You can sneak up a stairway and through a door and find deserted hallways with labels the only hint as to what might have once been here: Photography, Graphic Design, the esteemed Technical Art School… We discover a bunch of bizarre disconnects. A pair of large TV screens – circa 1999 – standing up in front of a beautiful old window, obscuring views across the city, while the ivy grows inside through the window cracks. A line up of abandoned TV screens on the ground outside a building- out with the old, in with the new, whatever that is in the moment?
We find classrooms abandoned seemingly mid lesson, 'Fight the TAFE Cuts' written in whiteboard marker. Awkward attempts at activation, an empty 'co-working' space faces inward, partitioned, doors locked. Another giant screen, this time playing daytime television to no one. A photographic exhibition in a defunct café, all begging the very real question "Who are these spaces for?"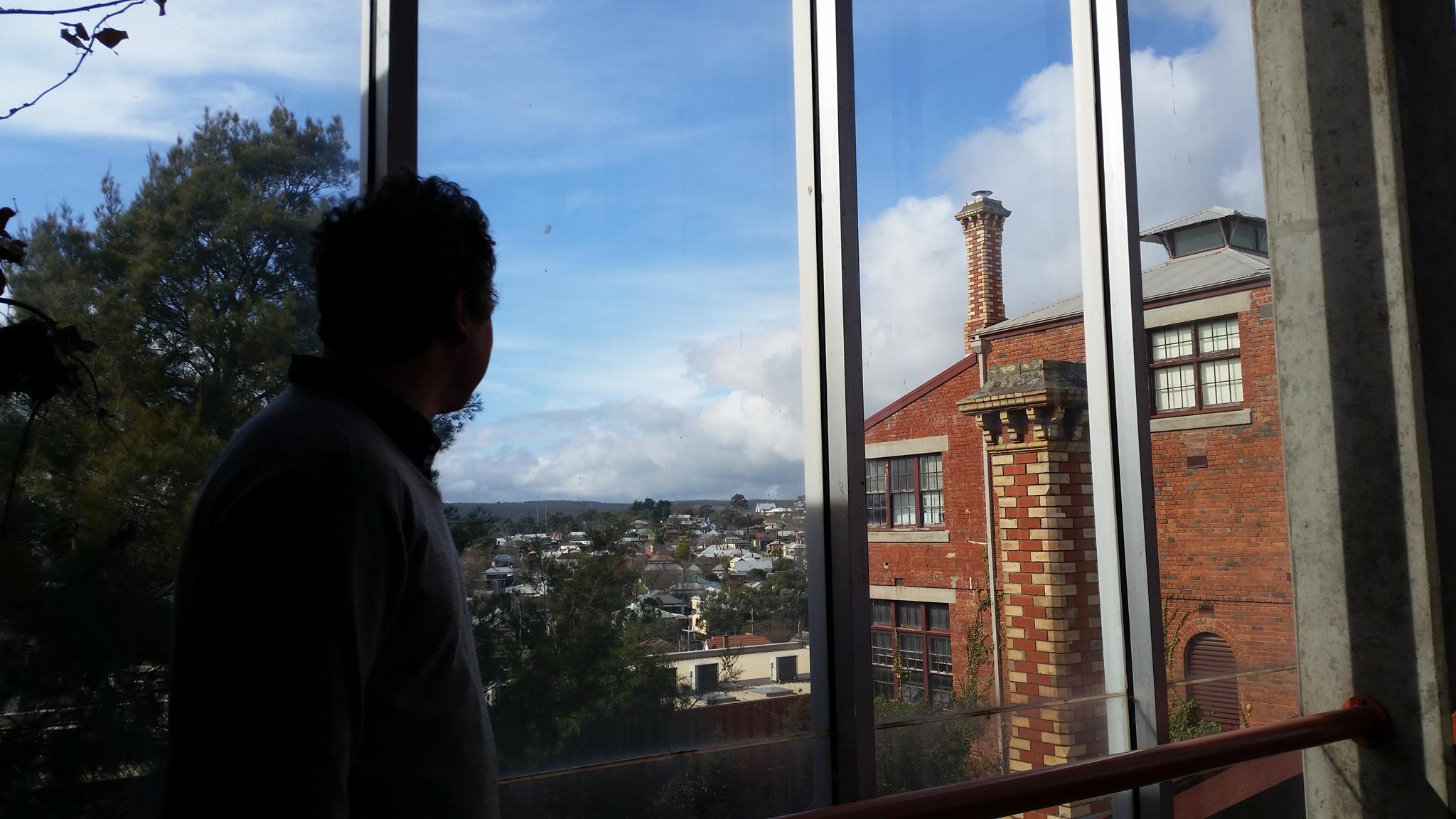 Dave: I'm here at the old School of Mines most days. It's peaceful somehow, quiet, even though it's right in the middle of the city. You can stand on the edge of the library, on top of the hill and look over the traffic. I'm sure you can hear it, but standing above it seems silent.
The School of Mines – or SMB as it's known – is a fully intact university campus,without students.  Pristinely decrepit. Abandoned but not neglected. Every day the bathrooms are washed, whether they've been used or not, as if the students may just walk back in one day. Who knows, maybe they will.
Corridors, classrooms, empty. An abandoned kiosk, with fridge still in place, but not running. Enclosed glass walkways, connecting equally disused buildings. Occasionally a door is locked, so we don't go there. Even more occasionally, an office has people in it. We don't go there either. Our own office – Federation University's Collaborative Research Centre in Australian History – is one of the few pulses of activity at SMB. Even so, you get the sense that if only we knew each other, there may well be a community of people in this strange pocket of Ballarat.
It's a mix of so many styles and atmospheres. Faded Victorian goldrush civic ambition – see the Botanical Gardens that stretch right up its eastern edge, slowly overgrowing, with neat signs describing exotic species.  And its counterside, a sinister version of Victorian command and control – the immense bluestone and steel prison gates. Try overlooking those, I dare you. The neo-gothic modernism of the Old Technical Art School building, the towering red brick and glass that just has to be from the 1970s or 80s. Everywhere you look there's something else to look at. I always feel a little bit lost.
When I talk to people about this place, I usually get one of three reactions: "I love that place"…or…  "That place used to be buzzing, but it's so quiet now" …or…  "where's that?" I think there are a few reasons why, maybe, that it has such an ambivalent place in Ballarat's urban landscape. Deep down, it's a dead end, literally and figuratively. It's the end of the road. You're rarely on your way somewhere else if you venture this far down Lydiard St. So it needs a reason to draw you in there. And presently, there aint many of those. And it doesn't help that the university has installed a red and white barrier in the road, never lowered, but inexplicably, passive aggressively, unintentionally, telling people on the other side… stay out.
Back  then though, well you had no choice. It wasn't a matter of staying out. It was about being locked in. And therein lies maybe one of the biggest reasons why this place just doesn't quite work?. The Ballarat Gaol. It looks scary, it feels scary, and until the 1960s when it ceased corrective operations, it was scary. As long as the city elders and their next generation can remember that this was a prison, then that may well be what it remains.
Ballarat Gaol Open Day 1964                                                                      Exploring 2015
Many questions remain! Come join us this Thursday for the History Heritage Place Discussion group themed 'Storytelling in the City' curated by Lucinda Horrocks of Wind & Sky Productions (read more about some of her recent projects) and Angela Campbell from the FedUni Arts Academy.
You can also find out about helping us recreate this image from the gardens from the 1890s. They are thought to be in the Ballarat School of Mines Materia Medica Garden (System Garden) for either a botany, chemistry or materia medica lesson, or as part of the Ballarat Field Naturalists group.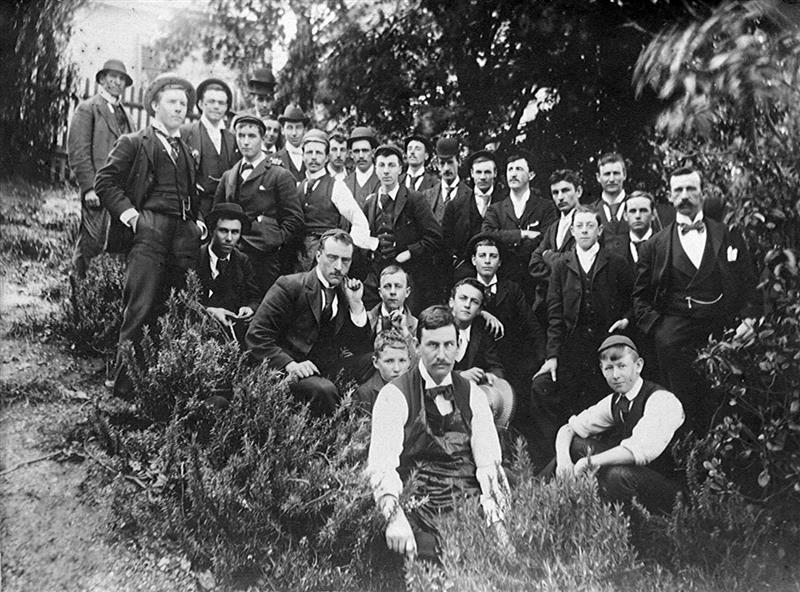 All the historic images featured here are from the Federation University Historical Collection, explorable via Victorian Collections. Happy exploring!