SongWays Main Road Precinct

Main Road Ballarat, NK6869, an6617940 Source: National Library of Australia
The Main Road precinct in Ballarat sprang up around the goldmine hotspots of Ballarat East. Roads and settlement formed higgledy piggledy to fit with the 'sludge and frequent flooding'1 of the then alluvial minefields. Buildings sprang up in clusters down this important trade route from the port of Geelong.
This is why the development of Ballarat East starkly contrasts the high level of town planning that was brought into place in Ballarat West: a grid of straight roads, including the wide promenade of Sturt Street in likeness to Edinburgh's Royal Mile. Take a peak now at the 1861 Goldfields map to see the difference in town development between Ballarat East and West.
Diggers found welcome relief from their days' mining, in the pubs with their concert halls. Any pub on Main Road wanting to attract clientele, quickly built a music hall. Spot them here:
Irwin's Star Concert Hall Sketch 1857; Shakespeare Hotel Sketch 1858; John O'Groat Hotel Sketch 1865

Source: Ballarat Historical Society
The miners worked hard under terrible conditions, many of them undergoing loss of limb or life. They played even harder. Even the more respectable of the early goldfields concert halls were considered unsuitable places for genteel society to congregate. Author, AW Strange in Ballarat: the formative years captures something of the atmosphere:
'Roistering diggers came at night, from near and far, to find entertainment in Main Road and it was all there. When plays and vaudeville were finished in the theatres, music started, and hundreds of men danced wildly together.'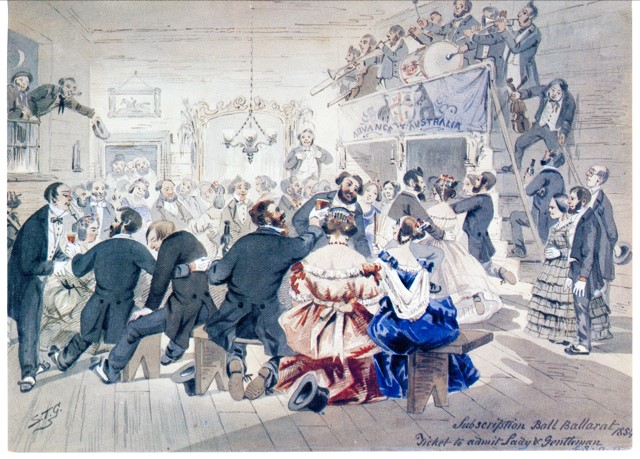 Subscription Ball 1854 Source: Ballarat Historical Society
The Joss House was also situated on Main Road and was a place of music as well as commerce and ceremony. The Chinese circus tent was another popular venue. It was usual in the goldfields across Victoria to enjoy Chinese as well as Western circus travelling acrobatics shows with their accompanying live music performers. Unusually, in Ballarat the Chinese tent was allowed permanent status for a number of years.
click on image to enlarge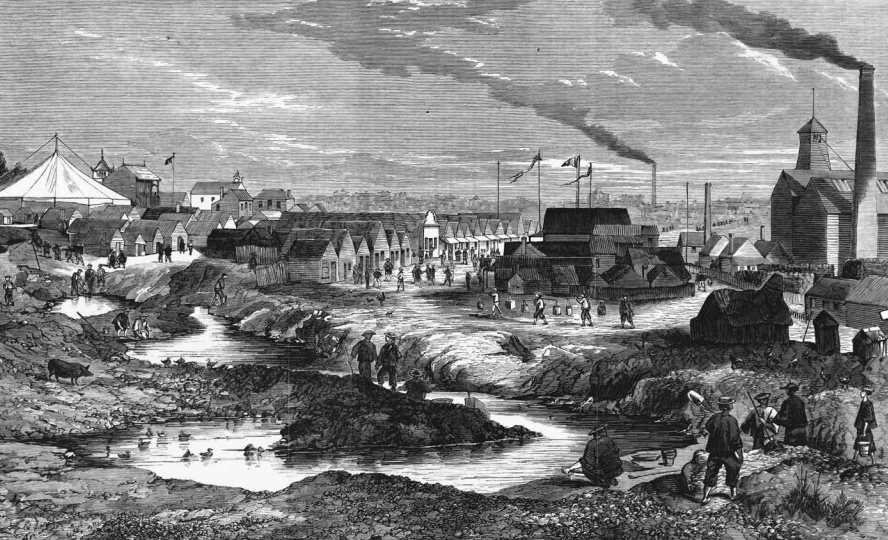 Chinese Quarter Ballarat with Circus tent and Joss House, Ebenezer & David Syme
Source: La Trobe Picture Collection, State Library of Victoria
There was a voracious appetite for music and dancing, with new populations such as shop merchants arriving to support the burgeoning new city. The Queen's Theatre - the first theatrical space in Ballarat (which seems to have been somewhere near The Eastern Station and hotel), the early Theatre Royal, the Adelphi Theatre and the Ballarat Assembly Rooms were all established by 1854, only three years after gold was discovered in the area. The concert rooms in hotels were in plenty including the Star Hotel, United States Hotel, John O'Groat Hotel, Shakespeare Hotel, Charlie Napier Hotel (#18 on the map sketch below) and Bentley's Hotel (which boasted an 80ft x 16ft hall).
Click on images to enlarge
Charlie Napier Hotel, 1854 sketch, Source: Ballarat Historical Society Collection
Main Road Map sketch, Source: Ballarat Historical Society Collection
By 1856 most goldfield entertainment was taking place in even larger venues in the Main Road precinct including The Victoria (2500 capacity), The Montezuma (1000 capacity) and the Charlie Napier Theatre (2000 capacity). With the miners' newfound wealth and time on their hands, this town must have been heaving with entertainment because these theatres were shortly followed by Theatre Royal in 1858 around the corner on Sturt Street (capacity 1500). Going out in the evening was a chance for people to doff their mining clothes and don the finery that symbolised their elevation into a new era of post-industrial wealth, prosperity and culture.
Theatre Royal was the most ornate of the early theatres designed in the Italian Style. Notice the columns and pilasters on the facade. According to the Star and the Times newspapers 1858, Theatre Royal became the 'principal venue for opera and drama as well as much of Ballarat's amateur and professional entertainment'. It had no less than ten dressing rooms, a spacious area under stage and refreshment rooms for 'each grade of audience'.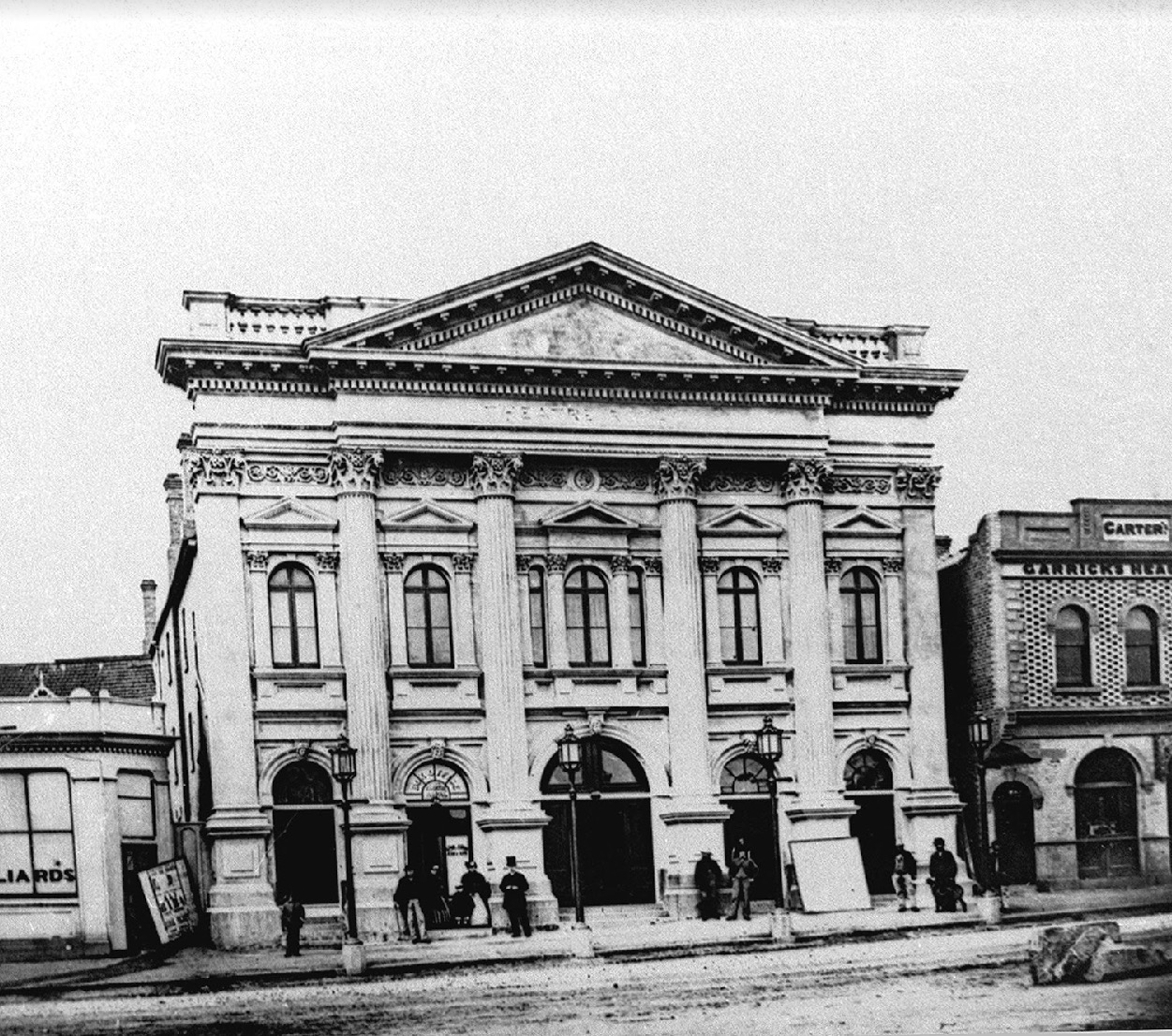 Theatre Royal, Sturt Street Source: Max Harris Collection, Ballaarat Mechanics' Institute
Then, in the 1860s, two new halls became key spaces for musical performance. They were The Ballarat Mechanics' Institute (1860) built for the 'intellectual, cultural and social' improvement of the citizens and The Alfred Hall (1867) built to welcome the royal visitation of Prince Alfred (second son of Queen Victoria). The hall physically bridged the Yarrowee Creek, architecturally uniting Ballarat East and West. Audiences of over one thousand and five thousand, respectively, were catered for here.
The Loyal Liberal Soiree at the Alfred Hall, Ballarat J Cousins engraving IMP12/09/68/141 Source: State Library of Victoria
Ballarat Mechanics Institute Source: Ballarat Historical Society
In 1875, Ballarat opened the doors to her newest and finest performing space with the addition of Her Majesty's Theatre.
'The Theatre was first known as the Academy of Music, a name calculated to overcome religious and temperance scruples against patronising a "theatre". The Academy had a flat floored auditorium suitable for dances and dinners, and a fully equipped stage. It was built to supersede Ballarat's Theatre Royal (1858), which stood around the corner in Sturt Street, near where the Myer Department store sits today. While very grand, the Royal had become outdated and no longer met the technical requirements of the touring companies.' hermaj.com
At first, entertainment was in the open air, and then in tents, itinerant musicians picking up whatever they could lay hands on to beat a rhythm and sing along. They were soon usurped by national and international acts gracing the theatres with their American and European operas, minstrel shows and concerts educating the masses about the latest cultural fashions in an age when photographs were scarce and recordings non-existent. Choral music flourished as did the music of every culture from German Brass bands to Scottish bagpipe bands to Chinese Opera and beyond.
Miners with musical talent, like Charles Thatcher, put mining tools aside and concentrated on entertaining the masses with, in this case, a serious amount of parody. Lola Montez also cashed in with her Spanish 'Tarantella' take off, The Spider Dance, for which she became infamous in the goldfields.
Lola Montes, photograph & Victoria Theatre poster, Lola Montes Source: Ballarat Historical Society
Wandering the sheep grazing pastures of 1850, who would have guessed that music would become such a thriving commodity and source of joy, education and social cohesion in a soon-to-be bustling European-style music city?
Charles Thatcher traditional song:
Source: Mark Gregory's Australian Folk Song site.
Words collected by John Meredith music by Sally Sloane.
1 W. Bate, Lucky City: The First Generation at Ballarat, 1851 - 1901
Resources:
A. W. Strange, Ballarat: the formative years
A. Doggett, 'And for harmony most ardently we long': musical life in Ballarat 1851 - 1857