Lydiard Street North Heritage Trail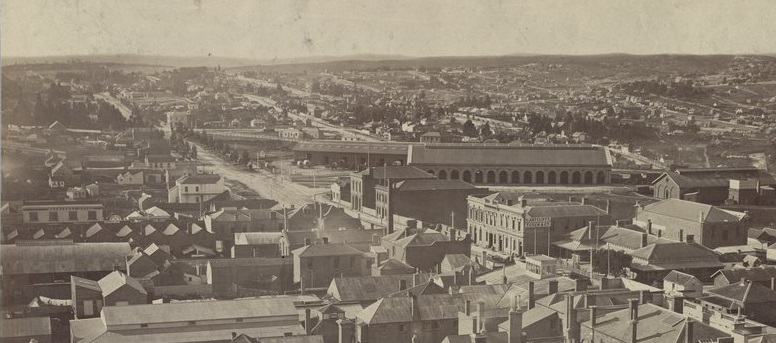 View over Soldiers Hill from Town Hall tower in 1872 (Source: William Bardwell, State Library of Victoria)
Exploring Lydiard Street North
In collaboration with Ballarat North Community House, the City of Ballarat have teased out some of the key stories about places and people in Lydiard Street North to develop a new heritage trail. The trail looks at the section between Sturt and Macarthur Streets, exploring the lives of people who have lived and worked in Lydiard Street North from the 1850s up to the present.
Download the Trail PDF (8.97MB)
Tell us your stories
This is a living project - we need your help to continue growing the trail to include more of Soldiers Hill. Visit TimeCapsuleBallarat to contribute photos and information on places that are important to you and use the hashtag: #SoldiersHillStories in the comment box so that your stories are linked in.
Contributions to TimeCapsuleBallarat will be used to grow this digital version of the trail and hopefully, collect enough stories to produce more versions in future.
Lydiard Street North Heritage Trail
Visit Google My Maps interactive map.
Stopping Points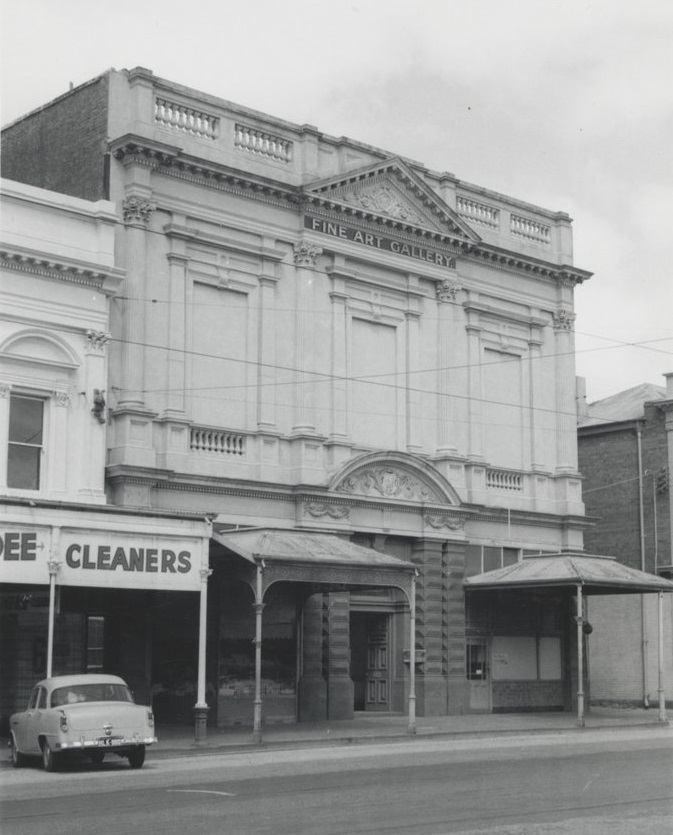 1. Art Gallery of Ballarat, 40-48 Lydiard Street North
The Art Gallery of Ballarat is the oldest and largest regional art gallery in Australia, and represents a tangible beginning for the city's strong tradition of philanthropy in the arts. Its construction was funded by prominent Ballarat citizens, led by the 'Father of Ballarat', James Oddie, whom believed that an art gallery was an essential element of a civilised and modern city. The grand building was constructed between 1887 and 1890 in the Free Classical style, to a design completed by local architects Tappin, Gilbert & Dennehy. It has been expanded several times over the years, to provide for the growing collection of early colonial through to contemporary Australian art.
The Art Gallery of Ballarat c1963-69 (Source: Source: J.T. Collins collection, La Trobe Picture Collection, State Library of Victoria)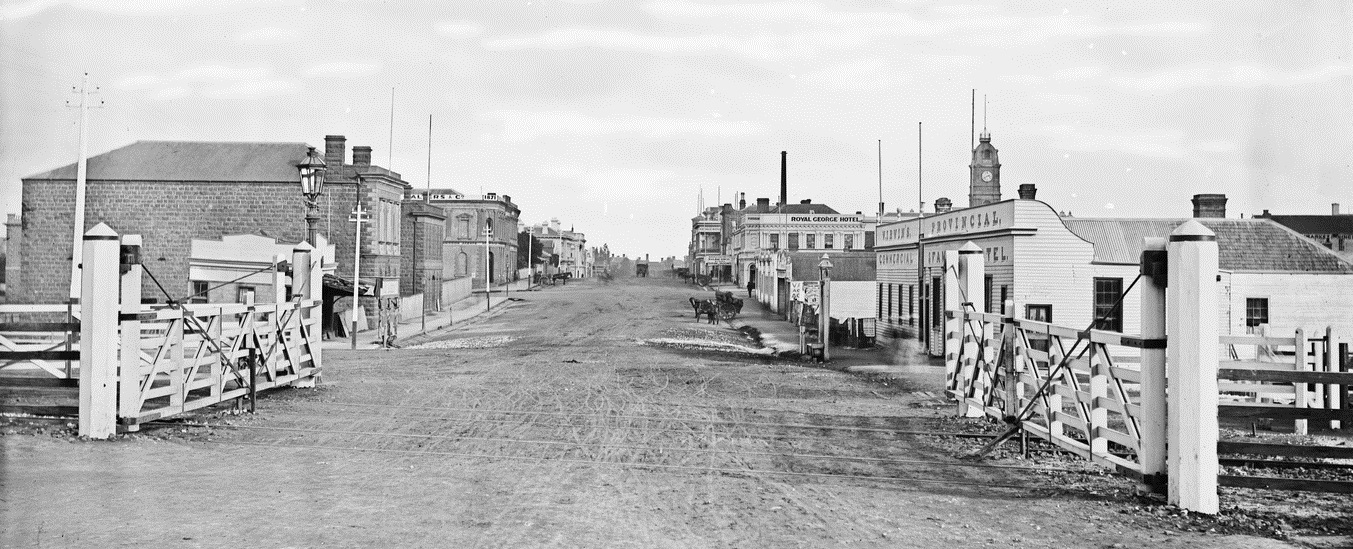 2. Ballarat Railway Station Gates
The level crossing gates at Lydiard Street North are the gateway to Soldiers Hill, and form part of the significant Ballarat Railway Complex; a station located at the head of one of Victoria's earliest colonial railway lines. Under threat of demolition in 1990, community members successfully campaigned to save the c1890s' gates, which were then conserved and adapted with modern technology. The railway gates are now the only functioning set remaining in Victoria and represent the coming together of 19th and 20th century engineering and technology.
View of Lydiard Street looking south from the railway gates c1870-75 (Source: American &​ Australasian Photographic Company, Holtermann Collection, State Library of NSW)
3. 205 Lydiard Street North
The store at 205 Lydiard Street is part of a commercial hub spreading north into Soldiers Hill from Ballarat's CBD. Similar to its current use as an antique store, it was formerly a furniture and cabinet making business run by Angus Linklater for several decades. Among its earliest occupants during the 1860s was the hide, skin and wool salesman Edwin James Strickland, who has been described as a 'pioneer of pioneers', having arrived in the colonies in 1837. His clientele included both locals and those abroad. The existing double-fronted shop likely added to, or completely replaced an earlier structure on the site during the early 20th century.
4. 'Oberon', 215 Lydiard Street North
'Oberon' is a Victorian Freestyle Terrace House built by a former mayor of Ballarat, Thomas Houlden Thompson, in 1894. Mr Thompson never lived at the residence and instead leased it as a source of income. Among his earliest tenants were Herman and Julia Gutmann. Mrs Gutmann was well known in Ballarat's social and art circles, particularly as president of the Ladies' Art Association for several years. She was also the Ballarat District Inspector for child services for almost 14 years before retiring in 1924, under the Neglected Children's Department as it was then known.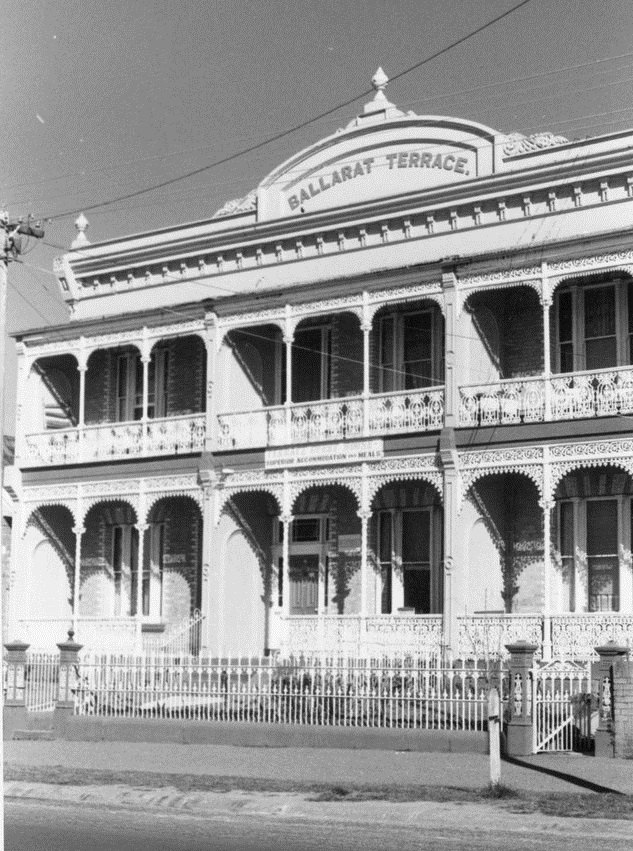 5. 'Ballarat Terrace', 227-231 Lydiard Street North
The imposing 'Ballarat Terrace' comprises three two-storey homes, constructed for Mr Hugh Raverty in 1889 on the site of the old Presbyterian manse grounds. The terrace was described as: 'elaborately finished, no expense being spared in the putting in of fittings and decorations,' and completed to the design of architects James and Piper. 'Ballarat Terrace' is now considered one of the most intact terraces in Victoria to also have its original architectural drawings.
'Ballarat Terrace' in 1976 (Source: J.T. Collins collection, La Trobe Picture Collection, State Library of Victoria)
6. 'Coupar Angus', 233 Lydiard Street North
Built in 1895, the Queen Anne style house called 'Coupar Angus' was once the home of Euphemia Baker, widow of Captain Henry Evans Baker, and their six children. Though Capt. Baker died in 1890 before 'Coupar Angus' was built, his contributions to the development of astronomy in Australia were substantial. After his career at sea, Baker became one of the most notable telescope builders in the colony, being responsible for constructing the first of those instruments ever made in Australia. He was also appointed the first Superintendent of Oddie Observatory at Mount Pleasant, where his 1888 telescope dubbed 'The Baker', is still in use. It was through one of her father's telescopes that Baker's youngest daughter, Elizabeth Hammerton, took award-winning photographs of the moon.
Captain Baker at the Oddie Observatory in 1890 (Source: Ballarat Historical Society Collection, Gold Museum)

7. Seymour's on Lydiard & former Hope Bakery, 302 Lydiard Street North
Perched at the intersection of Lydiard and Seymour Streets is one of Ballarat's earliest hotel establishments, built in 1857. The hotel has had several changes in appearance and name, with the North Star being its longest running incarnation. It has now been a popular venue for Soldiers Hill locals for 160 years and throughout that time, was the scene of countless social gatherings and celebrations. Tucked around the corner on Seymour Street is the former Hope Bakery founded by Messrs. Lovitt & Briant at around the same time. Remnants of the bakery's brick façade are still evident today.
The former North Star Hotel & Hope Bakery in 1861 (Source: Solomon & Bardwell, State Library of Victoria)
8. 313 Lydiard Street North
The café at 313 Lydiard Street is the latest in over 100 years' of businesses operating from these commercial premises, servicing the Soldiers Hill community. Mr William Trevethan purchased the land in 1886 and ran a general store there from at least 1900, and lived in the adjoining residence with his wife Elizabeth and their eight children. Trevethan ceased operating the store in 1912 after his wife's death until he himself died in 1927. Since then, the shop has operated as a fruiterer, confectioner, news agent, grocer and now a thriving café.
9. 'Yeadon', 413 Lydiard Street North
Built in the late-1860s, this striking Victorian villa 'Yeadon' has had many prominent owners. Former Mayor of Ballarat, Thomas Houlden Thompson, lived here between 1892 and 1900 and named the house for his birthplace, Yeadon in the United Kingdom. The well-known agriculturalist and colonist of 63 years, Henry Baber, lived here from 1900 to 1919; a drastic change to the tent overlooking the Eureka Stockade he first called home after his arrival in 1852. The Archdeacon of Ballarat St Johns, Soldiers Hill, Rev (Capt.) Joseph Best also lived at 'Yeadon' during the 1940s.
10. Scots Presbyterian Church, 415 Lydiard Street North
Built in 1890, Scots Presbyterian Church stands proudly on Ballarat's Lydiard Street, on the crest of a rolling hill, overlooking the original centre of the Victorian provincial city. Designed by local architectural firm Figgis and Molloy, it is a fine example of a Victorian Academic Gothic church, and has many features of note including the high octagonal spire. The church has held regular services, as well as fairs and other important events for the Soldiers Hill community for more than 120 years.
11. Group of shops, intersection of Lydiard & Macarthur Streets
The corner of Lydiard and Macarthur Streets has been a vibrant hub for business since the late 19th century. In 1895, it was here that Cleghorn Bros operated their char cutter business at 302 Lydiard Street. Across the road that same year at 502 Lydiard Street was bootmaker William Hardie's premises (now demolished), while saddler W.T. Wills operated a store opposite him at number 426, where the hairdresser now stands. By 1920 the corner stores were home to a baker, bootmaker, grocer and cake maker and nearly 100 years on, they continue their contribution to the local economy.